WIAW & Getting Back on Track
Last Wednesday, I mentioned that I was trying to practicing making good small decisions - I'm happy to say this is going well, but not great. Sometimes, ahem, this week, I feel like I get in a snacky rut that I can't get out of. It's a bit of a tortilla chip hole, if you will. Instead of beating myself up about it though, I've been taking it in stride and focusing on making my next meal/snack better. I remind myself that splurging one day is not going to derail my efforts and try to get back on track and stay consistent. Consistency is key for me and I'm glad that I've learned enough, about myself and nutrition, to realize when consistency is going out the window, examine why, and remedy the situation. I don't believe in "falling off the wagon" - healthy living is a lifestyle, not a wagon. I do think that we all get off track from time to time due to lack of mental and physical energy. And that's ok. We do not need to feel guilty or shamed - instead, we need to learn from it, redirect, focus, and get back on track. So this week - I'm keeping these things in mind and I'm getting back on track.
What do you do to get back on track? Is consistency or variety the key for your healthy lifestyle?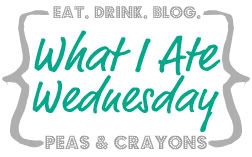 Now on to some highlights from yesterday's eats.  Since I'm all about consistency so all of my eats are pretty much the
same as last week.
6am-10am: nothing but BCAAs pre and post workout
Meal 1: egg whites + almond meal + 1/4 banana + PB + strawberries
Meal 2: whey protein shake with almond milk, flax seed + apple
Meal 3:
I didn't have the mental will to make lunch last night so I picked up an absolutely massive grilled salmon + spinach salad. I added a little of my Wholesome Goodness balsamic vinaigrette that I keep in my work fridge.
Snack: almonds since I was feeling munchy
Meal 4: two eggs with salsa
Meal 5: it was my stepdad's birthday so we had chicken tacos and some copious amounts of unpictured chips & salsa
I limited myself to save room for the main event....
gfree chocolate cake! (I didn't eat this massive piece - my brother did give it a good effort though)
Sorry for the hand blur - he was grabbing more strawberries to top his dessert.
Happy Wednesday everyone! Friday is on the horizon - woohoo!